Easily search and query your Umbraco 7 assets
Diplo God Mode makes Umbraco 7 developers invincible!
This custom tree for the Developer section of Umbraco allows you to browse, query and search your document types and compositions; your templates and partials; your datatypes and property editors; your media library; your custom controllers and models.
Important Note: This is the older version for Umbraco 7. The latest version is for Umbraco 9 and more info can be found here. For the Umbraco 8 version please read this post.
Rational
As a developer working with Umbraco 7 you often need to be able to work out things like:
Which document types use this property editor? Or which use a specific instance (data type)?
What templates does this partial appear in?
Which document types use a specific property?
What are the largest items in my Media Library?
Which controllers does this site use and what type are they?
Which document types inherit from a given composition?
Which of my partials are cached and in what template?
How is Umbraco configured? How is my server configured?
To answer these queries I built a quick AngularJS developer tree that allowed me to enter some of these queries. It was very rough, performed terribly and looked bad. But I knew it could be very useful, so over time rebuilt it "properly" and gave it a nice UI and tweaked the performance until it's lightning fast. This blog post announces the release of this package (both traditional Umbraco package and NuGet) to other developers. If you are impatient then watch the YouTube video demo.
Features
Easily see which document types inherit from any of your compositions
See which document types use which property editor or data type instance
See which partials are used by all your templates and which of those are cached
Find out which data types are being used (or not!)
Browse all media in the Media Library and sort it by file type, size or media type
See which controllers (Surface, API and RenderMvc) are being used and in what namespaces and DLLs
View all generated models (that inherit from PublishedContentModel)
Browse all Umbraco Settings, plus all Server settings and MVC settings
Look at any assembly in your site and see which types implement a particular interface
Plus lots more!
Screenshots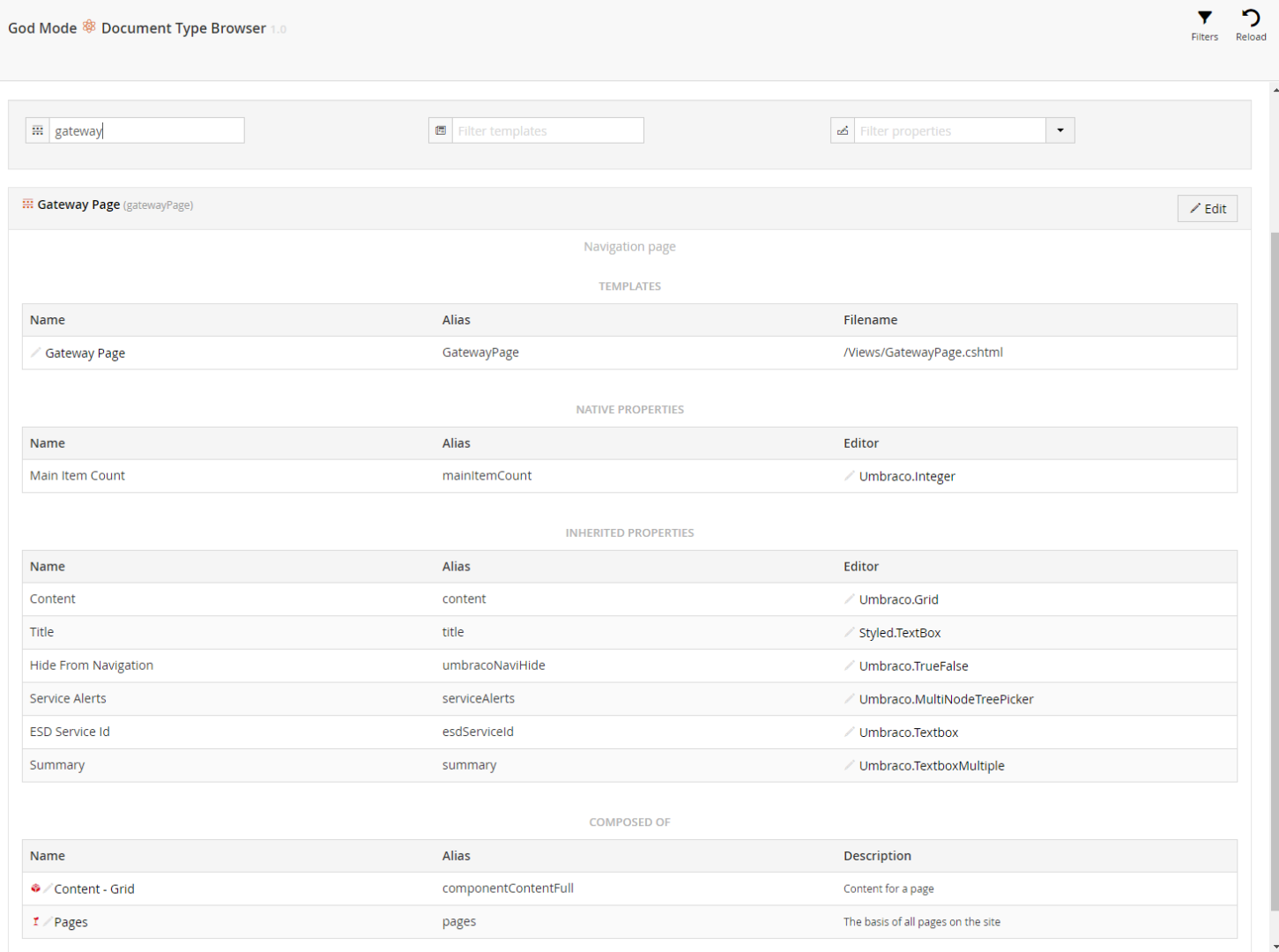 Demonstration
Demo based on the excellent LocalGov Starter Kit by Kevin Jump.
Download
Note this is only for Umbraco 7.4.3 or above! Latest v7 release requires v7.7.
For the Umbraco 8 version please see please read this post.
NuGet: https://www.nuget.org/packages/Diplo.GodMode/
PM> Install-Package Diplo.GodMode
Package: https://our.umbraco.org/projects/developer-tools/diplo-god-mode/
---