Fifteen To One Me and William G.
In my, shall we say, less financially well-off days, I heard from a friend that you could get a free trip to London and decent expenses if you went on a TV quiz show. So I decided to apply for a popular and long-running Channel 4 quiz show called Fifteen to One, hosted by the indomitable William G. Stewart. The only slight problem was that it had "a reputation for being one of the toughest quizzes on TV" (as Wikipedia put it).
Somehow I managed to get through the auditions in Manchester and found myself offered a place on the show. This was how I found myself in a waiting room in Capital Studios in London, with fourteen other contestants (all of whom seemed to be doing the Telegraph crossword). I, on the other hand, was wearing an old Mudhoney t-shirt and had decided, for a joke, to say my profession was "an assistant fishmonger". In reality, I was "between jobs" and distinctly nervous and had a rather embarrassing conversation with a bloke from Bolton about preparing fish after he asked me what I did...
The actual filming was a bit of a blur. I remember a short bloke having to stand on a crate, William G. having his make up re-done every few seconds and a studio devoid of an audience except for canned applause. So how did I do? Well, I managed to get a couple of questions correct and so manage to survive the first round. However, I then made the mistake of nominating a bitter old lady who subsequently picked on me until I was out.
On the plus side I had a nice day out in London, made a nice profit on the expenses and, best of all, John Peel mentioned on his radio show that he spotted some long-haired bloke on Fifteen to One wearing a Mudhoney t-shirt - which was me!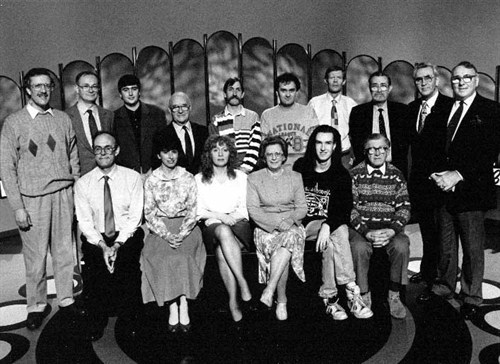 I'm on the front row, second from right. William G. Stewart is on the top row, also second from right. The guy with the handle-bar moustache in top-middle won the episode. The woman to my left was the one who picked on me! B**ch!